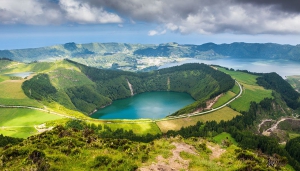 LIFE IP AZORES NATURA project covers 24 SAC's, 15 SPA's and 2 SCI's of the Natura 2000 Network in the Azores, seeking to attain a significant contribute for the conservation of species and habitats protected by the Habitats and Bird Directives that underlie their designation.
In concrete, by facilitating the implementation of the regional Prioritized Framework Programme for Natura 2000 (PAF 2014-2020), the project seeks that future assessments show a better conservation or a secure status for 100 % habitats and 50 % more species than those described in unfavorable status on the last reporting to the UE (2013), or species and habitats that could not be evaluated by lack of knowledge and reference information.
To this effect, the LIFE IP AZORES NATURA directly targets the 4 main areas embraced by the PAF – all which eligible for LIFE-IP funding – and mobilizes complementary funding, with synergic aims, through applications to a variety of other mechanisms (which are granted, in application stage and/or foreseen to be requested within the timeframe of the IP).
In order to achieve its targets, LIFE IP AZORES NATURA relies on combined works with which we seek to achieve the following objectives that directly tackle Prioritized Framework Programme of the Natura 2000 (PAF 2014-2020):
Implement on-field conservation works identified as needed for improvement of conservation status of 24 species and 13 habitats protected by the HD, including recovery of 6 priority habitats and 3 species, and promotion of the complementary signing/interpretation for awareness raising on the conservation goals;

Implement habitat improvement works foreseen on the Action Plan for the Azores bullfinch Pyrrhula murina in the European Union to secure its conservation status and promote the complementary signing/interpretation for awareness raising on the conservation goals;

Promote control/eradication works targeting IAS and monitor their results;

Fill knowledge gaps on distribution and/or conservation status/threats for specific species/habitats;

Execute ex-situ conservation actions, namely through collection and conservation of seeds from 80% of the endemic species of the Azores in the Germoplasm Bank at the Botanical Garden;

Reinforce the current capability for N2000 surveillance and management;

Develop and deliver, to technical and operational staff;

Develop and set an operational GIS database required for N2000 management

Reinforce integration of N2000 conservation goals in other sectoral policies

Raise awareness of local population and relevant stakeholders for the conservation values of N2000 and its worth as an instrument for improvement of overall life condition and sustainable development;

Raise awareness and engage local agents towards further use of rural development support schemes available through other regional and EU financing programs;

Promote sustainable use of N2000 areas;

Promote adequate conditions for sustainable use and improvement of profitability of private agents acting within N2000.